As part of the Unified Community Platform project, this wiki and 38 others will be migrated to the new platform in the next few weeks. Minimal changes are expected as part of this migration. Read more here.
Effect Stacking
This page explains the stacking mechanics between various status effects.
There are two types of status effects: Active and passive. An active effect is gained by executing an ability during battle, while a passive effect can come from a trait, equipment, or esper. It is possible for a passive effect to auto-cast an active effect during battle.
Rules of thumb:
Same active effects don't stack, with some exceptions.
Same passive effects stack, with some exceptions.
Active effects stack with passive effects and go beyond passive effects caps.
Example: Active ATK buff (100%) will stack with stacked passive ATK buffs (400% total). Both stack to be 500% ATK buff.
Only one unique effect, with different icon and wording, can be active at a time. To view which effects are active on a unit/enemy, long press them during battle.
Boosts
Status Ailments

Status buffs (4)
Status break protection (4)
Ailments protection (8)
Elemental resistances (8)
Elemental imbues (8)
Damage mitigations (3)
Damage resistances (2)
Physical killers (12)
Magic killers (12)
Stop protection
Charm protection
Cover*
Provoke
Reraise
Counter
Regen
Refresh
LB gauge fill rate buff
Nullify spell
Mirage
LB damage boost
Ability damage boost (per ability)

Poison
Blind
Sleep
Silence
Paralyze
Confuse
Disease
Petrify
Hex
Zombie

Enfeeblements

Status break (4)
Ailment break (8)
Elemental imperil (8)
Stop
Charm
Berserk

Other Effects

Reflect
HP barrier
Enable ability (per ability)
Damage over time (per ability)
Singing
Note: Different types and forms of active cover don't stack, newest cover replaces older one.
ATK buff, normal attack's ATK buff, and berserk's ATK buff stack.
Status buffs from Arena bonus and regular status buffs stack.
Enable ability for different abilities stack.
Ability damage boost for different abilities stack.
Different damage over time stack.
If a unit has more than one identical effects of different potency, only the strongest one will be active. However, the previous effect is not removed, it stays dormant on that unit until the duration runs out. If the strongest effect runs out before the weaker one, the weaker one will become active again. This is called layered effects. There is no known limit on the number of layers.
Example: Two ATK buffs, one is 100% for 3 turns, and the other is 80% for 5 turns. The 100% one will be active for 3 turns, followed by 80% one for 2 turns.
A good application for layered effects is the enable ability effect:
Dual-casting that effect will give you 2 layers, doubling its usage limit.
Some effects have limited use but infinite turns, so you can store them for later use.
There are only two unlayerable effects, explicitly coded to prevent exploit: Reflect and mirage.
Only one copy of each unstackable materia can be equipped at a given time. The ability selection screen will grey out other copies if one is already equipped. You can check which materia is unstackable by the blue colored [1] on its icon.
Same effect from other items do stack. For example: Man-Eater materia don't stack, but you can stack another Man-Eater from Deathbringer and Diabolos. Equipping 2 Deathbringer and a Man-Eater materia will give you 3 stacks.
"Only effects from different sources will stack" is a myth. Equipping two effects from one source (e.g. 2 weapons/accessories/materia) does not necessarily make it unstackable unless it's listed in this page.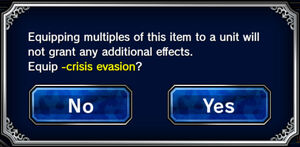 Effects that are unstackable may come from equipment or materia. Unlike unstackable materia, which prevents you from equipping more than 1 of the same materia, you may equip more than one item with unstackable effects. Doing so will show a pop up notifying that the effect won't stack.
Effects with an unstackable mechanic doesn't prevent you from equipping more than one, nor does it prompt you about the unstackable effect. They simply don't stack because the gameplay mechanic prevents them from stacking.
Dual Wield

Technically, dual wield does stack. However the most common source of dual wield, Dual Wield, is already capped for the types of weapons that can be dual wielded. There are other dual wield effects with fewer types of weapon.

Multi-hits regular attacks

Only the strongest is used.

Magic evasion

Only the strongest is used.