As part of the Unified Community Platform project, this wiki and 38 others will be migrated to the new platform, with migrations beginning September 23rd at 7am CDT. Minimal changes are expected as part of this migration. Read more here.
Kappa Village
Kappa Village
World
Paladia
Region
Crystallis
An village blessed by the plentiful waters of the great underworld. This place, populated by the "Kappa" who are friendly and welcome any who visit, is known as a very peaceful place.
Talk to the Kappa marked with [!] straight north from the entrance to unlock Cave of Rebirth.
The path to Mama Chocobo will open up after clearing Crystallis Barrier Station.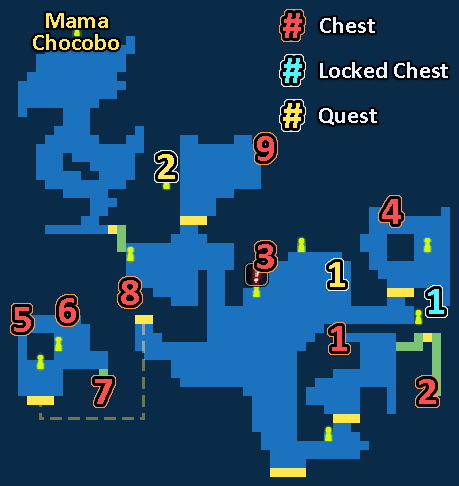 No.
Reward
2
Aquamarine Ring
Prerequisite
Clear Crystallis Barrier Station.
Start Quest
Receive the quest from #2 on the quest map.
Objective 1: Deliver the miraculous water
Talk to the Kappa down the stairs, below the shop and pick "No".
Ability Shop
Name
Effect
Price
Water
Magic Ability (Black Lv2)
Water magic damage (1.2x) to one enemy

3,000

Water Blade
Water hybrid damage (1.8x) to one enemy

3,000

Recipe for Watera
-

2,400

Recipe for Kappower
-

2,400

Alcryst
Material

200

Mama Chocobo's Den
Name
Type
Description
Price
Phoenix Down
Item
Revive one KO'd ally (20% HP)

5

Elixir
Item
Recover HP/MP (100%) to one ally

5

Raise
Materia
Revive one KO'd ally (30% HP)

150


(Limit: 1)
Dual White Magic
Materia
Use white magic twice in one turn

150


(Limit: 1)
EVO MAG +15%
Materia
Increase EVO MAG (15%)

200


(Limit: 1)
Trust Moogle
Enhancer
Increase trust mastery when fused (10%)

300


(Limit: 1)